Citi Card & Cebu Pacific A-Fare to Remember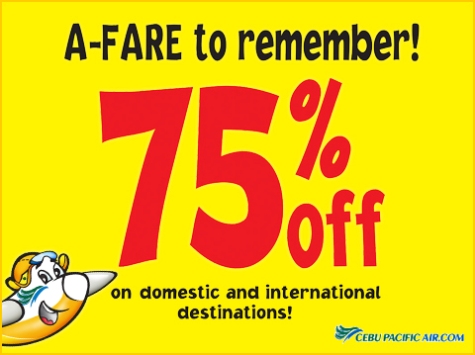 Book your tickets to Dubai, South Korea, Hong Kong, Boracay, and more!
The Cebu Pacific – Citibank Cards 75% off Seat Sale ("Promo") will run from August 19 to 22, 2013 ("Promo Period").
This Promo is exclusive to all Citibank cardholders, principal and supplementary, whose cards have been validly issued by Citibank, N. A. Philippines and Citibank Savings Inc., and are active and in good credit standing.
The Citibank cardholder can avail the 75% off on ANY Cebu Pacific destination, except Japan, subject to the provisions below.
To get the 75% off ("Discount"), the Citibank cardholder must enter CITISALE ("Promo code") in the promo code field found in the flight search section at www.cebupacificair.com. The Promo is not applicable on connecting flights.
The travel period of the tickets availed under the Promo is from November 7, 2013 to January 31, 2013, except for the following blackout periods:
Dec. 12-31, 2013 – ALL Cebu Pacific Destinations
Jan. 16-21, 2014 – ALL flights to/from Cebu
Jan. 16-21, 2014 – ALL flights to/from Kalibo
Jan. 23-28, 2014 – ALL flights to/from Iloilo
Jan. 28-31, 2014 – ALL flights to/from Hong Kong, Beijing, Guangzhou, Shanghai, Macau, Taipei, Xiamen and Singapore.
More info at http://www.citibank.com.ph