Fashion Palooza: A Trendsetter's Bazaar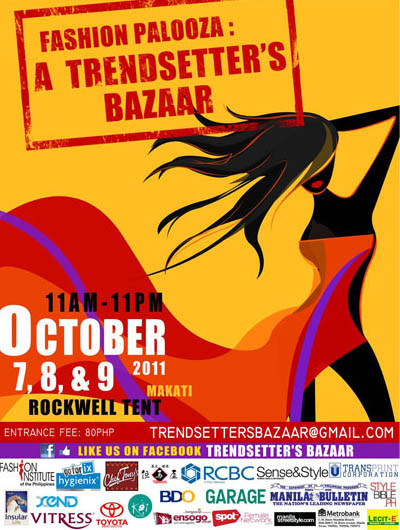 Bazaar Date: October 7-9, 2011
Bazaar Venue: Rockwell Tent, Makati City
Entrance Fee: P80
Discounted Entrance Fee: P40 (Buy at Ensogo)
Bazaar Highlights:
-If you're out of touch with the hottest fashion, whether it's the latest in club wear, shoes, bags and jewelry, you will get a good dose of today's current fashion trends at Trendsetter's Bazaar's biggest fashion event, the Fashion Palooza.
-A whole bunch of fashion designers will grace the event, giving you an idea of what's hot and what's not in today's Philippine fashion scene. Sellers of makeup, accessories and other beauty products will also be at the event. After all, the best clothes and shoes are nothing if not combined with perfectly executed makeup and accessories.
-Don't be left out! Bring your fashionista friends and enjoy a day shopping and updating your stylebook at the Fashion Palooza. Whatever your style preference is, there will some a booth there to satisfy your hunger for new fashion.
From: http://www.facebook.com/trendsetters.bazaar