WFTO Asia Exhibit and Christmas Bazaar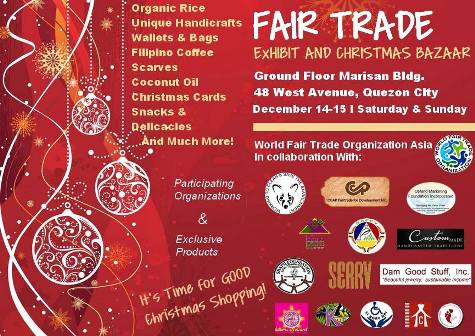 In time for the holiday season, WFTO-Asia is holding a Fair Trade Open House, a small gathering of Fair Trade Organizations at the WFTO Asian regional office.
The activity aims to target consumers who would like to have an alternative to their usual gift choices by buying ethically-sourced, sustainably-produced and socially-empowering gifts.
Holiday gift suggestions include paper products from Nepal, personal care products from India, accessories from Yunnan province in China, crafts and food items from the Philippines, and a lot more!
You are welcome to drop by and visit us at No. 48 West Avenue (Mary Santos Artcade) on December 14 and 15 from 9am to 7pm.
More info at https://www.facebook.com/WFTOASIA