Category Archives:
Announcements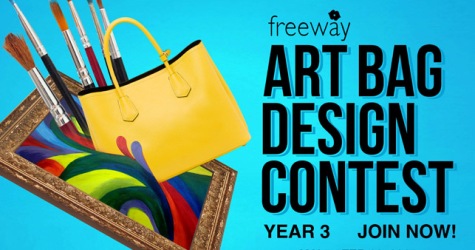 Freeway Art Bag Design Contest is back on its Year 3 and once again inviting all aspiring artists nationwide to showcase their creative skills! The past contest held last year was a huge hit with over 240 remarkable nationalistic-themed entries that poured in making two stand out and announced as grand winners: "Batok" by Elito Job Mirasol and "Tanglaw" by Felicidad Plata. This time, Freeway is looking for another batch of talented artists whose artwork will be featured in Freeway's next line of art bags as part of its next National Artist Collectors Series 2015! Do you think you have the creative skills and the passion to express your ideas? It's easy! Read the full mechanics below.
Step 1
Visit the Contest Mechanics page at http://freewayonline.com.ph/freeway-art-bag-design-contest-year-3/ or log on to your Facebook account and go to Freeway Facebook (https://www.facebook.com/FreewayOnline/timeline). Click the Freeway Art Bag Contest Facebook App/tab to read full mechanics. Download the "Art Bag template" by clicking the link on the Full Mechanics.
Step 2
Using the Art Bag template, submit your artwork. Upload your entry via the Freeway Art Bag Contest Facebook App/tab. Applicant should submit an originally designed artwork that includes the elements of Nationalism, Filipino pride OR our country's Art and Culture. It can be in traditional mediums such as oil, watercolor, charcoal, pen and ink or modern digital graphics. No actual artwork needs to be submitted, just a digital file or good quality photo of the artwork in the Art Bag template. Submission of entries will be accepted only until February 20 March 5, 2015 (EXTENDED!).
Step 3                                                                                                                
Wait for FREEWAY to upload your entry on to the Freeway Art Bag Contest Facebook App/Tab. Once uploaded, invite your friends to vote for your entry on the Facebook contest app. Voting ends on March 20, 2015 and is 20% of the criteria. You may have your artwork produced on Freeway bags with your name credited as the artist! Be creative and have fun!
Prizes:
There will be 2 grand winners. Each winner will receive Php 10,000 cash and  Php 10,000 worth Freeway Gift Certificates. The winning designs will also be put into production as part of Freeway's National Artist Collector's Series 2015 without remuneration on the winners together with the featured National Artist which has yet to be revealed.