Category Archives:
Black Friday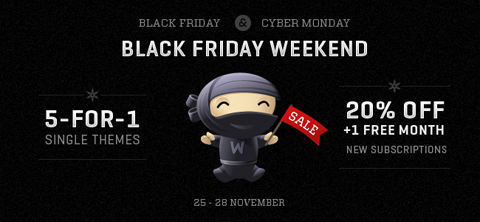 Black Friday Weekend promotion. Black Friday and Cyber Monday Deals from WooThemes (WordPress Themes)
Buy Now at WooThemes
Buy any Standard Package (normally $70) with a 20% discount for only $56. We also include 4 bonus themes, so you'll be getting 5 Standard Package themes for only $56.
Subscribe for either a Standard or Developer Club Subscription and we'll give you a 20% discount on the signup fee AND we'll make your first month completely free (meaning we will only bill your first monthly installment 60 days after signing up).
Offer valid until midnight (GMT-10) on Monday, 28 November 2011.
Know more about WooThemes