Category Archives:
Discounts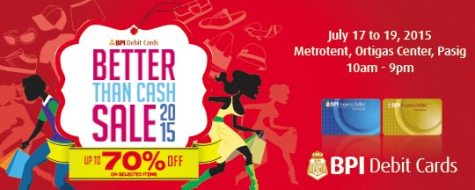 PROMO MECHANICS:
The BPI Debit's Better-than-Cash Sale 2015 is from July 17, 18, and 19, 2015 from 10AM to 9PM at MetroTent, Ortigas Center. BPI Express Teller Debit (ATM) Cardholders can enter the event proper as early as 9AM.
This event is open to all BPI, BPI Family Bank and BPI Direct Debit (ATM) cardholders (Express Teller Blue, Express Teller Gold, Jumpstart, BPI Direct, BPInoy, BPI One Ayala and Ka-Negosyo), BPI Express Credit (Classic, Edge and Mini-Edge MasterCard, Blue MasterCard, Gold MasterCard, Petron-BPI MasterCard, BPI WorldPerks MasterCard, BPI Skymiles MasterCard and BPI Skymiles Platinum MasterCard, BPI Corporate Cards, BPI-Ayala Malls Amore Visa and BPI-Ayala Malls Amore Visa Platinum), BPI Family Credit Card, and BPI Prepaid cardholders. They just need to show their BPI card and valid ID at the entrance to get free passes.
Fee of P50 will be paid at the entrance if the customer has no BPI Card. Only children ages 12 years old and below will be waived for the fee.
BPI Express Teller Debit (ATM) cardholders will enjoy the following exclusive perks and privileges when they use their card (through E.P.S.) to purchase at participating merchants at the event proper:
Enjoy ADDITIONAL 5% discount on selected merchants
A chance to get FREE GIFTS for accumulated spend of P10,000 during the event. To join, here's how:
Upon purchase, BPI Express Debit cardholder shall go to BPI Lounge area, present the card, valid ID and charge slips to BPI representative
BPI cardholder will spin the wheel of rewards. He/She will get a chance to earn up to 5% rebate or free gift. Note that the rebate will apply to the total amount indicated in the charge slips he/she presented during the event.
Maximum E.P.S. limit per day is P100,000 for BPI Express Teller Blue and P250,000 for BPI Express Teller Gold
The promo is not valid in conjunction with any other ongoing promo unless otherwise indicated.
BPI Express Teller Debit Card shall not be responsible for any matter in relation to the services/products provided. Malibu shall be solely responsible for all obligations and liabilities in relation to such services/products and all auxiliary services.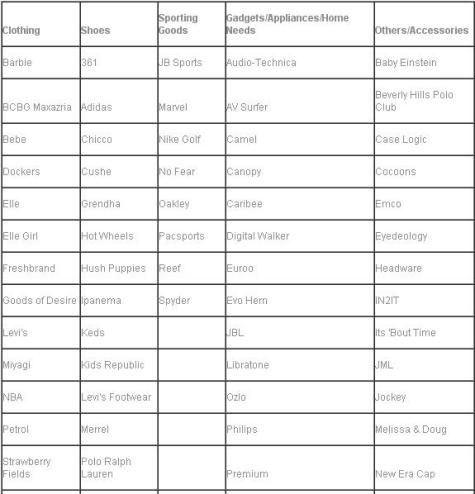 More info at http://www.bpicards.com/RealThrills/Details/2585