Category Archives:
Gift Certificate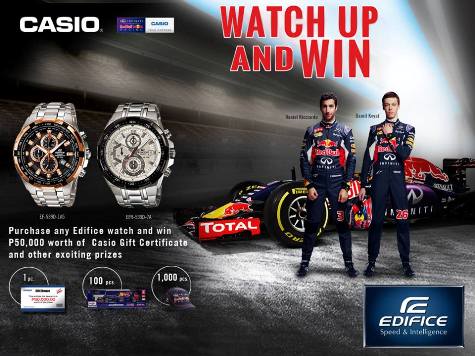 Promo Guidelines
What is the promo?
The Casio Edifice "Watch Up and Win" Promo is a mobile raffle promo wherein customers who purchase any Edifice watch at any authorized Casio dealer nationwide gets a chance to win a P50,000 worth of Casio gift certificate and other Infiniti Red Bull Racing items.
1 Casio Edifice watch purchase = 1 promo scratch card
How to join?
Simply purchase any Casio Edifice watch during the promo period (July 15, 2015 to October 15, 2015 11:59PM)
Upon purchase, the customer receives an individually-wrapped promo scratch card from the Casio sales personnel
The promo code shall be hidden under a scratchable surface on the card.
Users must enter their unique promo code via SMS to join the promo:
Mechanics:
Customer texts: EDIFICE<space>Code, or EDIFICE<space>Code/First Name/Last Name/Birth Year/Address/City/Mobile Number to 3456
System Reply: Thank you for sending your entry to the Edifice Promo! Earn more entries on every purchase of a Casio Edifice watch! Text EDIFICE<space>code found on the Watch Up and Win Promo Card, and send it to 3456.
Check your points by texting EDIFICE ENTRIES to 3456. Promo period: July15- Oct15, 2015. DTI-FTEB SPD #XXXX. S 2.50/txt
This automatically opts the customer into the Casio mobile database. As such, the customer agrees to receive broadcasts from the Casio.
o   For non-registered customers, they will receive an automatic reply and is prompted to register his/her details by texting EDIFICE REG First Name/Last Name/Birth Year/Address/City/Mobile Number to 3456
Ex: EDIFICE REG JUAN/CRUZ/1985/7 BF Homes/Paranaque/09178459279
o   Once successfully registered and promo code is successfully entered, customer earns one raffle entry.
o   Customer may check his/her raffle entries by texting EDIFICE ENTRIES to 3456
o   For succeeding promo code entries, simply text EDIFICE <Promo Code> to 3456
If not yet registered, the customer will be prompted to register in order to confirm the raffle entry. The raffle entry will be on hold until the registration process is complete
Registration is free. After the initial registration, there will be no need to register again.
Cost of sending of codes as entries will be shouldered by the customer. P2.50 (Globe and Smart) and P2.00 (Sun Cellular)
A unique mobile number can only have one registration for the promo.
Each customer may increase his/her chances for winning by purchasing more Casio watches, and sending in each watch's corresponding code/s.
Non-winning entries are still eligible to win on the succeeding raffle draws.
A customer may only win once throughout the duration of the promo.

More info at https://www.facebook.com/notes/casio-watches-philippines-belrewmond-trading-inc/watch-up-and-win-2015-promo-guidelines/1098841023478044