Category Archives:
Gift Packs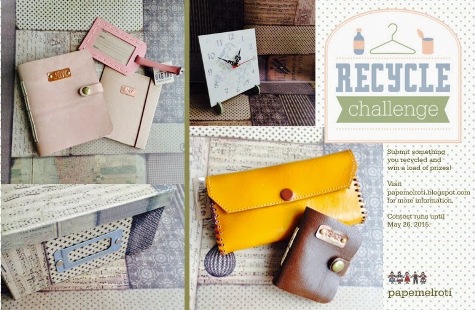 Here's the challenge:
Submit a photo of something you recycled.  It could be something you did long long ago or just recently!  The best idea wins a gift pack from Papemelroti!
For your entry, please e-mail :
1) 1-3 clear photos of what you recycled (not your mother or aunt or second cousin, it has to be made by you 🙂
2) description (what was it before and what is it now?)
3) Materials you used
4) Step by step instructions
5) Your name and which city and country you come from
E-mail this to
info@papemelroti.com
CRITERIA for JUDGING:
30% Creativity
30% Originality
30%  Usefulness
10% Doability
You can submit as many as 5 entries!
All entries must be family-friendly.
What you'll get the chance to win:
Use and Use Green Eco Bag
Vintage Victorian Aviary Desk Clock
6 Compartment Box in Gentleman's Vintage Design
3 Compartment Box in Gentleman's Vintage Design
Filing Box  with Nameplate in Gentleman's Vintage Design
Goldenrod Wallet
Mini Peace Leather Notebook
Encouragement Poster
Twig Journal in Gentleman's Vintage Design
Pencil Pad in Gentleman's Vintage Design
Leather Luggage Bag Tag
Joy Leather Snap On Journal
Slip On Joy Kraft Booklet
OR
you may opt instead to get P2000 Papemelroti gift certificate which you can claim in any Papemelroti branch.  You pick!
You have until May 26, 2015 to submit your entries!  That's a whole lot of time to join isn't it?  So send away!
More info at http://papemelroti.blogspot.com/2015/04/recycle-challenge-win-some-prizes.html