BARBIE: Mariposa and the Fairy Princess Special Screening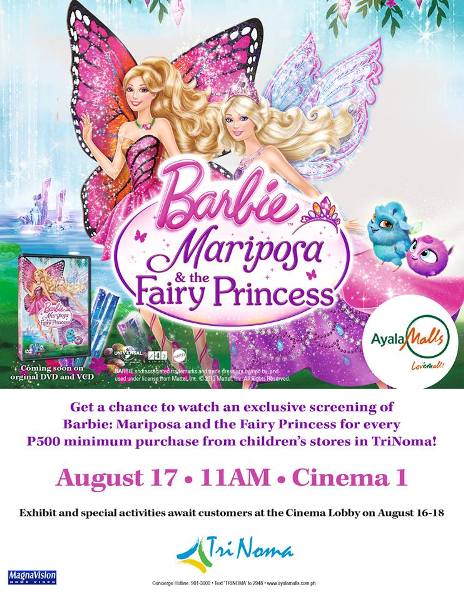 MECHANICS:
1. The promo is open to all customers of children's stores in TriNoma.
2. Promo period is from August 14 to August 16, 2013.
3. A minimum of P500.00 single purchase receipt (cash or credit card transaction) from the  following merchants during the promo period entitles the customer to one (1)movie ticket. A customer can only redeem only a maximum of two (2) movie tickets per receipt.  (i.e. P500 = 1ticket, P1,000 and above = 2 tickets).
Level 1 – Big& Small Co., Cotton On Kids, Gingersnaps, Pois Belly and Kids
Level 3 – Animaland,Annil, Barbie, Build City, Cuts for Tots, Florsheim Kids, Gift Factory, GuessKids, Gymboree, Hobbes and Landes, Kevin's Toys & Library, Kidsports,Lacoste Kids, Meet My Feet, Mothercare, Osh Kosh B'gosh, Periwinkle, StrideRite, Toys "R" Us, WishBarn, Youji & Me
Level 4 – LittleMartians
4. Present/exchange your receipt/s at Level 1 Concierge (near the Activity Center) from August 14to 16, 2013 from 10am-9pm to claim your stubs. A maximum of four (4) tickets can be redeemed by every customer per day.
5. Only 150 tickets are available with seating priority on a first-come, first-served basis.
6. TriNoma reserves the right to validate receipts. Receipts that are defaced, crumpled, tampered, photocopied and smaller than the actual size will not be honored.
7. Damaged or misplaced movie tickets will not be replaced by TriNoma.
8. The schedule stated in the movie ticket is final and cannot be changed.
More info at https://www.facebook.com/TriNoma.AyalaMalls