Smart and Spinnr PH Katy Perry Fly Out Promo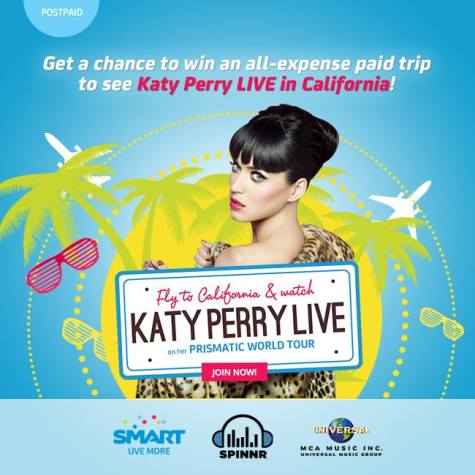 Smart and Spinnr PH are taking three lucky Smart Postpaid subscribers and their friends to California to watch Katy Perry LIVE!
Like Spinnr's Facebook page , register to SMART's Katy Perry Fly Off App, and purchase songs from Spinnr to earn points!
MECHANICS:
Earn points by doing the following:
Install the app = 1 point
Purchase a song from Spinnr = 10 POINTS
Gift any song via Spinnr = 15 POINTS
Purchase a Katy Perry Song from Spinnr = 15 POINTS
Gift a Katy Perry Song via Spinnr               = 20 POINTS
Subscription to 30 day membership (P49) = 50 POINTS
Subscribing to a Supercharge Plan = 300 POINTS
The top three (3) people who earn the most number of points from July 1, 2014 to August 31, 2014 will win an ALL-EXPENSE paid trip to Los Angeles, California and 2 tickets each to Katy Perry's concert in Staples Center on September 19.
The 4th to 10th person with the highest points will also get Katy Perry official merchandise. Please see the prizes page for details.
The number of points and your rank may be viewed in your profile page. There will be a 24-48 hour delay in crediting points.
More info at https://www.facebook.com/SpinnrPhilippines/