BDO – SMART BRO iPAD Promo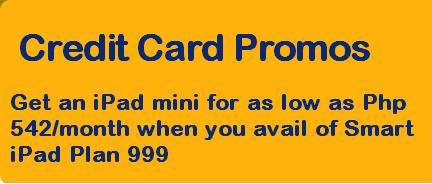 Get an iPad Mini for as low as P542/month when you avail of SMART iPad Plan 999.
BDO – SMART BRO iPAD Promo is open to all BDO and American Express cardholders whose credit cards are in active status and in good credit standing. Also included in the promo are Co-branded cards, Affinity and Tie-up bank accounts. Excluded are Simple cards, Corporate accounts, Distribution cards, Purchasing cards, Electron cards, EasyPay JCB, JCB 4-Gives and American Express International Dollar Cards.
Qualified BDO or American Express credit cardholder is entitled to the following exclusive offers:
A.  Php 9,000 OFF on iPAD Device cost (based on Apple Premium reseller Price) available up to 24months installment, Absolutely 0% Interest.
B.  iPad Plan 999 with 24 months contract.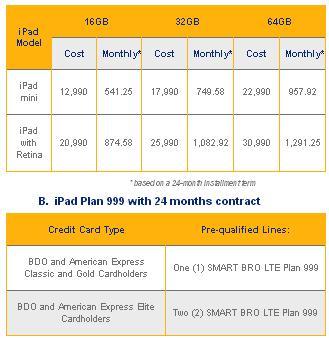 More info at https://www.bdo.com.ph