BPI and Mexicali Promo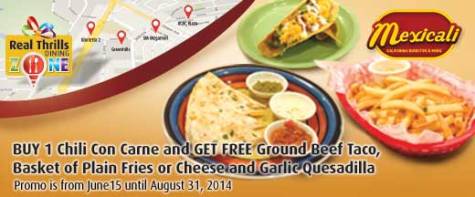 Promo Mechanics
1. The promo is open exclusively to existing BPI Express Credit (Classic, Blue MasterCard, Gold MasterCard, Petron-BPI MasterCard, BPI WorldPerks MasterCard, BPI SkyMiles MasterCard, BPI SkyMiles Platinum MasterCard, BPI Amore Visa, BPI Amore Visa Platinum, Edge MasterCard, Corporate Classic and Corporate MasterCard) and BPI Family Credit cardholders of good credit standing.
(Note: BPI Express Credit Classic and Corporate Classic cards are accepted only in stores where a BPI point-of-sale terminal is available.)
2. Promo period is from June 15 to August 31, 2014.
3. Cardholder should buy one (1) Chili Con Carne (Bowl size) at participating Mexicali branches to get one (1) any of the following featured dish – FREE:
FREE DISH
Ground Beef Taco (Soft or Hard) = SRP-P88
Basket of Plain Fries = SRP P104
Cheese & Garlic Quesadilla = SRP114
4. The free dish should be redeemed at the restaurant branch where the dine-in or take-out was made.
5. Only three redemptions can be availed per card per visit.
6. Charge slip will be stamped "REDEEMED" by Mexicali's restaurant personnel upon release of the free dish.
7. Redemption is valid for dine-in and take-out transactions only.
8. The free dish cannot be exchanged for cash, other products or discounts.
9. The promo is not valid in conjunction with any other ongoing Mexicali's promos.
Participating branches
Glorietta
Greenhills
SM Megamall
RCBC Plaza
More info at http://www.bpicards.com/RealThrills/Details/1959