BPI and Trinoma A Taste of Adventure Raffle Promo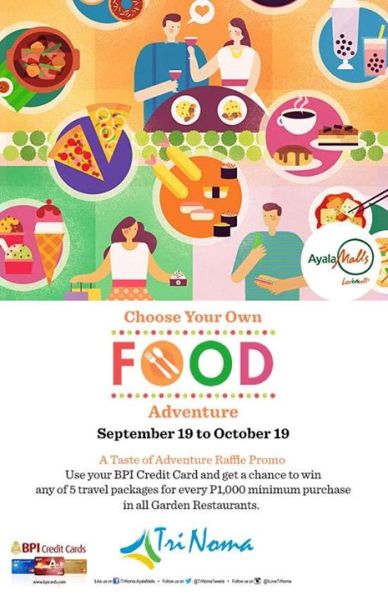 Use your BPI Credit Card and get a chance to win any of 5 travel packages for every P1,000 minimum purchase in all Garden Restaurants!
GENERAL MECHANICS:
The promo is open to all BPI Express Credit Cards (Classic, Blue MasterCard, Gold MasterCard, Petron-BPI MasterCard, BPI WorldPerks MasterCard, BPI SkyMiles MasterCard, BPI SkyMiles Platinum MasterCard, BPI Amore Visa, BPI Amore Visa Platinum, Edge MasterCard, Corporate Classic and Corporate MasterCard) of good credit standing.
Promo period is from September 19 to October 19, 2014.
BPI Cardholder should use his BPI Credit Card at the following TriNoma participating merchants to qualify for the raffle. Minimum single receipt purchase transaction and corresponding number of raffle coupon/s are as follows:

Ground Level – Conti's, Dencio's, J.Co Doughnuts & Coffee, North Park, Parvati, Starbucks, Toast Box, Tous Les Jours, UCC Café
Level 1 – a Veneto, Blackbeard's Seafood Island, Bon Chon, Flavours of China, Giligan's, Ginza Bairin, Happy Lemon, Kamay Kainan, La Mesa Grill, Mann Hann, Max's, Oki Oki, Pancake House, Pho Hoa, Red China, Red Mango, Sizzlin' Pepper Steak, Teriyaki Boy
Level 2 – Cabalen, Gerry's Grill, Hanamaruken Ramen, Racks, Recipes, Starbucks, Tempura Japanese Grill, Tokyo Bubble Tea, Vanilla Cupcake Bakery
Level 3 – Abe, California Pizza Kitchen, The Coffee Bean & Tea Leaf, Kimpura, Mango Tree Bistro
Level 4 – Banana Leaf, Bigoli, Café Breton, The Chophouse, Cyma, Fish & Co., Fuzion, Gelatissimo, Hokkaido Ramen Santouka, Italianni's, Jack's Loft, Jamba Juice, Katsu Sora, Krispy Kreme, Mrs. Fields, Pearl River Café, Red Box, Shomal Kebabs & Curries by Hossein, Starbucks, Sumo Sam, TGI Friday's, Wee Nam Kee, Yakimix
Cardholders should present the following to claim the raffle coupon/s at the redemption booth (Level 1 near Chronos)and at any of the concierge booths (Ground Level to Level 4) from 10:00AM to 9:00PM on September 19 to October 19.
The BPI Express Credit card used for the transaction
The original and untampered charge slip
Customer must completely fill-up the raffle coupon with the following details and drop at the designated drop boxes located at the redemption booth (Level 1 near Chronos). Customer must only drop the raffle coupon at the drop box of his/her preferred prize. Raffle stubs with incomplete details are deemed invalid.
Complete name
Complete address
E-mail address
Contact number/s
Signature
Deadline for submission of raffle entries is at 10:00PM of October 19. The drop box will be sealed at 10:00PM by the authorized representative from TriNoma administration office for safekeeping.
Raffle draw will be held on October 20, 6PM at the TriNoma Administration Office in the presence of a DTI representative.
A total of five (5) winners will be drawn randomly. Prizes for the raffle promo are as follows:

More info at https://www.facebook.com/notes/trinoma/a-taste-of-adventure-raffle-promo-mechanics/776313825741154