BPI Free Jollibee Food Items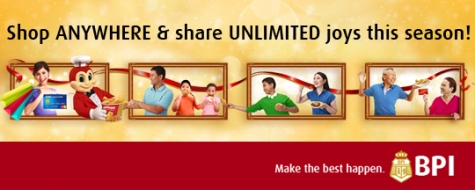 Promo Mechanics:
The promo is open to all existing BPI Express Credit Classic and MasterCard cardholders:
Qualified BPI Express Credit Classic and MasterCard
Classic
Blue MasterCard
Gold MasterCard
Petron-BPI MasterCard
BPI WorldPerks MasterCard
BPI SkyMiles MasterCard
BPI SkyMiles Platinum MasterCard
Edge/Mini-Edge MasterCard
Promo period is from October 15, 2014 to January 31, 2015.
To qualify, cardholder should use any of the QUALIFIED BPI Express Credit card within the promo period for a minimum single receipt transaction of P2,500, P6,000 or P12,000 at any merchant. Transaction should be approved through a point-of-sale terminal. Cash advance transactions are also qualified.
Cardholder can redeem any of the featured food items at any participating Jollibee store nationwide. Required minimum single receipt transaction and their corresponding free food items are as follows:

To redeem the free food item(s), cardholder must send his qualified credit card transaction details on the charge slip to 2256 using the format below:
IM BPICARD REG Card Number (Last 4 Digits)/Approval Code/Transaction Date (MMDDYY)/Transaction Amount*
Example: IM BPICARD REG 1234/R56789/101514/2588.88
* For BPI Express Credit MasterCard foreign-denominated transactions, cardholder must text-in its Peso  value equivalent.
More info at http://www.bpicards.com/RealThrills/Details/2195