EastWest: Get FREE Max's Filipino Favorites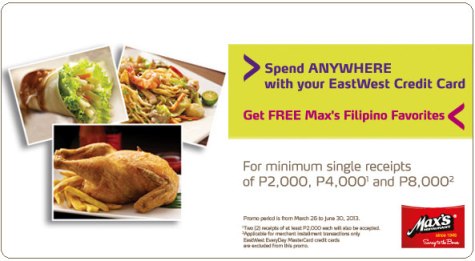 This promo is open to EastWest Classic & Gold MasterCard and Visa, EastWest Platinum MasterCard, EastWest Dolce Vita MasterCard, EastWest Practical MasterCard, Hyundai MasterCard and LausAutoGroup Visa Credit Cardholders ("Cardholders") in good credit standing*. EastWest EveryDay MasterCard credit cards are excluded from this promo.
Promo Period: March 26 to June 30, 2013.
Redemption Period:  March 26 to August 29, 2013.
To qualify for FREE Max's Filipino Favorites, the Cardholder must make a purchase using his/her EastWest Credit Card at any merchant during the promo period corresponding to the spend requirement below:

More info at http://www.eastwestbanker.com/info/promo_maxs.asp