MasterCard: Win a Limited Edition Vespa Scooter + 20,000 Shopping Spree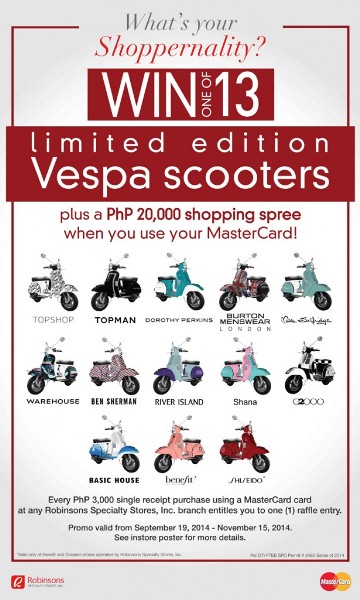 Terms and Conditions:
The "What's Your Shoppernality?" Raffle Promotion will run from September 19 to November 15, 2014.
For every PhP 3,000 purchase in-store using his/her MasterCard at any Robinsons Specialty Stores, Inc. (RSSI) store, the MasterCard cardholder is entitled to one (1) raffle coupon. Accumulated receipts are not allowed.
Deadline of submission of entries is on November 15, 2014, after mall hours. Drop box will be collected one day after deadline. Drop boxes will be brought to RSSI head office under the custody of the RSSI Marketing Services Manager.  Drop boxes will remain sealed until the draw date.
The list of participating Robinsons Specialty Stores, Inc. brands and stores can be found in this link > http://www.robinsonsspecialtystores.com.ph/directory
Each qualifying purchase will entitle the MasterCard cardholder to one (1) raffle card entry which he/she must fill-out with complete name, address, email address, contact number and drop in a drop box located at the counter of each branch.
Qualified MasterCard cardholders will get a chance to win one (1) of the thirteen (13) customized PX150 Vespas plus Php 20,000 worth of shopping spree. Only one (1) winner will be selected from each of the following RSSI brands, across all branches: Topshop, Topman, Dorothy Perkins, Miss Selfridge, Burton, Warehouse, Ben Sherman, Basic House, G2000, River Island, Shana, Benefit and Shiseido.
More info at http://robinsonsspecialtystores.com.ph/promotions/whats-your-shoppernality