Discount Nikon D3100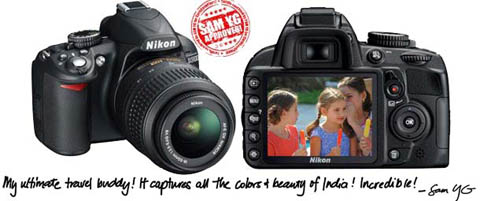 31% discount! P25,899 instead of P36,999 for Nikon D3100 with 18-55mm VR Lens, 4GB Memory Card and Case! FREE DELIVERY NATIONWIDE!
Buy Now at CashCashPinoy
Deal Highlights:
-Perfect up to date entry level DSLR from one of the Industry's leading Brands – NIKON!
-Kit contains Nikon 18-55mm f/3.5-5.6G AF-S DX VR Nikkor Zoom Lens.
-14.2 Megapixel resolution captures astounding details in stills and full HD 1080p movies
-Compact, weighs about 505 g (1lb. 1.8 oz.)
-Review pictures in the large 7.5-cm (3-in.) LCD monitor
-Rotate through different modes through the Guide Mode
-Expand your creativity with 6 different picture control settings, Active D-Lighting, ISO sensitivity and more!
-Supports optional Eye-Fi SD cards for wireless transfer to your PC.
-FREE Strap, 4GB Memory Card and Camera Case!
-One Year service warranty!
-FREE NATIONWIDE DELIVERY!
About Nikon D3100
The Nikon D3100 is the perfect introduction into the world of DSLR cameras. We're welcoming you with a bang by throwing in FREE Strap, 4GB Memory Card and Case so you'll be ready to shoot and go. Take a picture with amazing clarity at 14.2 Megapixel resolution. Sometimes you'd want to capture the whole moment, do so in full HD 1080p movies.
More info at CashCashpinoy Group Buying Deals