Sunsilk Dreamstarter Digital Promo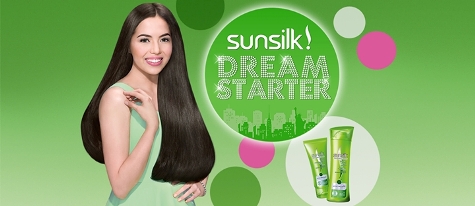 Hairkada! Are you ready to reach for your dreams? It might just happen soon!
What are you waiting for, Hairkada? Join the Sunsilk Dreamstarter Promo!
Just LIKE Sunsilk on Facebook and follow them on Instagram or Twitter.
Every week, they will post a #SunsilkDreamstarter poster on Facebook, Twitter, and Instagram
Comment your dreams or Share the #SunsilkDreamstarter poster on your wall and tag Sunsilk along with your answers!
You can also submit your dreams to  on Twitter and Instagram by using the hashtag #SunsilkDreamstarter.
Send as many DREAMS as you want! (There's no limit!)
Entries can just be a comment or a tweet! No need for a photo or a very long explanation! How easy is that?
Towards the end of the promo, the Hairkada Panel of Judges will pick three (3) lucky girls to be part of the final three!
40%- Uniqueness of the dream
30%- Depth of the dream
30%- Hairkada go-getter attitude in achieving her dream
Sunsilk will feature the TOP 3 Hairkada on their social media pages (Facebook, Twitter, and Instagram) to let everyone know that they are ready for a life that's paganda nang paganda.
This is your time to shine so make the most out of it!
The Top 3 Hairkada will now have the chance to ask their friends and family to vote for them by just clicking LIKE on their official #SunsilkDreamstarter poster that will be featured on Sunsilk's social media pages.
Get your long beautiful hair ready and keep on asking everyone to VOTE for you! How exciting is that?
The Hairkada with the most number of LIKES at the end of the week will receive Php100,000 to jumpstart her dream.
That's amazing, right? So make sure you're ready for a life that's paganda nang paganda!
The winner will be featured in a Hairkada video that will be posted on all their pages.
Yes, you heard that right! You will be living the dream as a Sunsilk Hairkada!
Anything else you want to ask? Just send us a private message and we will answer all your queries asap
Promo period is from October 3, 2014 – November 31, 2014.
For more details, visit https://www.facebook.com/notes/sunsilk/sunsilk-dreamstarter-digital-promo-mechanics/774253665954734