Tempura Japanese Grill iPad Mini Photo Contest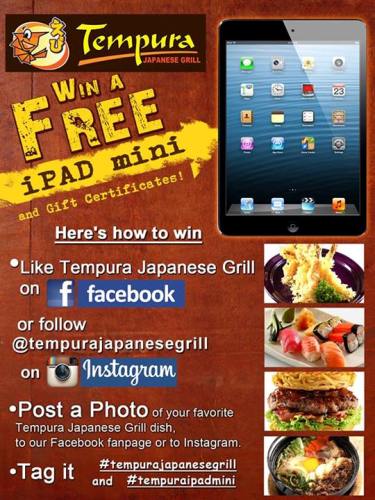 Here's how to win:
1. Like the Tempura Japanese Grill Fanpage on Facebook or follow
@tempurajapanesegrill on Instagram
2. Post a photo of your favorite Tempura Japanese Grill dish, to their
Facebook fanpage or  Instagram account
3. Tag it #tempurajapanesegrill and #tempuraipadmini
Submission of entries is from January 13, 2014 to Feb 10, 2014.
The top 3 photos (uploaded to either Tempura Japanese Grill's Facebook or Instagram pages) with the most number of likes by Feb 18, 2014, 12 noon will be declared the winners.
1st place: iPad Mini
2nd place: P2,000 in Gift Certificates
3rd place: P1,500 in Gift Certificates
Announcement of the winners will be on February 18, 2014 via the Tempura Japanese Grill Facebook fanpage & Instagram account, and via direct message. Winners must be willing to claim their prize at their Head Office in Manila.
More info at https://www.facebook.com/tempurajapanesegrill