Toblerone: Win a Trip to Switzerland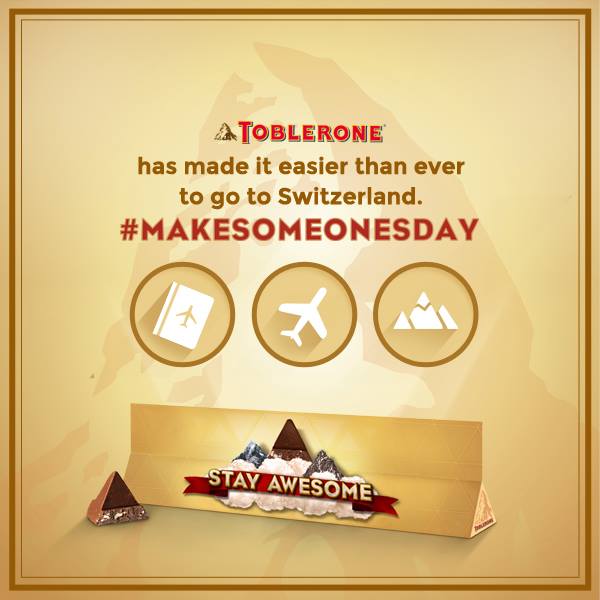 Promo Description
Mondelez Philippines, Inc. (MDLZ) will run a Toblerone #MakeSomeonesDay promotion meant to fuel a movement that empowers Toblerone fans to make someone else's day good — which in turn results in a good day for them as well.
Participating SKUs are Toblerone Milk, Dark and White chocolate bars in 100g, 200g, 400g sizes. These SKUs will come in six (6) special pop-up sleeves that will contain each of the following messages:
Congratulations
Stay Awesome
Good Job
I Love You
Happy Birthday
Thank You
Mechanics for joining the Online Raffle
Follow Toblerone Pilipinas across all its social media platforms:
– Facebook (www.facebook.com/TobleronePilipinas)
– Twitter (https://twitter.com/TOBLERONE_PH)
– Instagram (http://instagram.com/toblerone_ph)
Join the #MakeSomeonesDay movement by purchasing any of the participating Toblerone SKUs and giving it to a loved one/friend/family/etc. A picture of the participating Toblerone bar should be posted on the participant's Facebook, Twitter and/or Instagram accounts with the hashtag #MakeSomeonesDay to qualify
The participant's social media account used to post the photo entry should be set in Public to qualify for the draw
For the grand draw, participants who posted all 6 (six) participating Toblerone SKUs as a collage in their social media accounts with the prescribed hashtag will qualify.
Digital Raffle & Winners
Winners will be drawn via a random electronic raffle coming from the digital pool of photo entries collected in our database
There will be twenty-three (23) weekly draw dates. Each week, two (2) winners will win a 4.5 kg Toblerone bar each.
There will be one (1) grand draw date:
September 30, 2014  – One (1) winner of trip for 2 to Switzerland, and a 4.5 kg Toblerone bar
More info at https://www.facebook.com/tobleronepilipinas