Watch Republic: Get a Chance to Win a Brand New Watch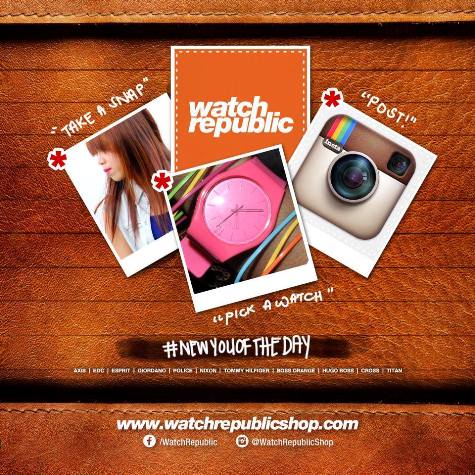 GET A CHANCE TO OWN A BRAND NEW WATCH WITH #NEWYOUOFTHEDAY!
From September 15 until October 31, we encourage you to try something new. Assemble an outfit you've always wanted to wear, head on out to Watch Republic wearing your new style and take a snap wearing your choice of watch from the awesome line up of brands inside their shops! Post your photo and tag @WatchRepublicShop  to get a chance to win a cool timepiece!
Here's how you can join #NEWYOUOFTHEDAY:
1. LIKE Watch Republic's official Facebook account: https://www.facebook.com/WatchRepublic
Or
FOLLOW Watch Republic's official Instagram account: @watchrepublicshop
2. LIKE and SHARE the official "New You of the Day" poster posted on Facebook or Instagram (this picture)
3. GO to WATCH REPUBLIC SHOP and TAKE A PICTURE inside the shop wearing the watch that you tried or bought from Watch Republic as part of your outfit of the day (OOTD).
4. The picture must have a message inside that says "(watch brand) by Watch Republic". Be as creative as you want with your picture!
5. Include a photo caption explaining your outfit shot in this format:
a. Description of the outfit
b. Watch brand you are wearing in the picture
c. Watch Republic branch where the picture was taken
6. POST your #NEWYOUOFTHEDAY (NYTD) on FACEBOOK or INSTAGRAM (whichever of the two social media you have access to)
a. TAG @WatchRepublicShop
b. ADD hashtags: #NEWYOUOFTHEDAY, #OOTD, #selfie and #WatchoftheDay
7. Only one post per day is allowed. Photo that features watch not found inside Watch Republic will not qualify.
Two of the most creative, unique and intriguing looks will win a brand new watch! Plus, three more will win a special Spa Gift Set!
More info at https://www.facebook.com/WatchRepublic