Win a Smart Netphone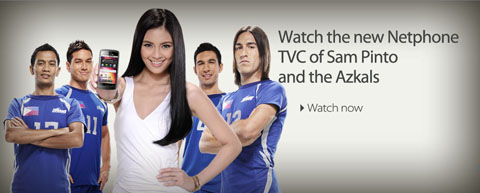 It's time for Jump's first-ever Facebook contest and we have two Smart NETPHONES up for grabs!
CONTEST DURATION: September 11 – September 20, 2011
Prize:
Two (2) Smart NETPHONES
MECHANICS
1. Go to Jump Experience Center at the Cyberzone of SM Megamall.
2. Take a picture of yourself, your friends or family with your camera phone, point & shoot camera, or DSLR with one of the Netphones on display or ask a demo unit from one of the Jump Squads.
3. Be creative and unique in posing with the Netphone. You can plank, do a Jump shot, or whatever pose you like as long as the Netphone is visible in the photo. 🙂
4. Like the Jump Experience Center Page in Facebook (http://www.facebook.com/JumpExperienceCenter) and upload the picture in OUR Facebook Wall to join the contest.
5. Put a caption in the photo and tell us why you deserve to get a free Netphone.
"I want a Netphone so I can chat with my friends all the time through SmartNet."
"I want a Netphone so I can switch and experience Android technology."
6. Make sure that your photo and caption is submitted by checking the Wall and Photo Section of the Jump Experience Center Facebook Page.
7. Each person can submit up to three (3) photos in different poses.
HOW TO WIN:
One (1) Netphone will be given to the entry with the MOST CREATIVE PHOTO
One (1) Netphone will be given to the entry with the MOST CREATIVE CAPTION.
There will be three (3) consolation prizes for each of the category. Judges will be composed of the Jump Creative Team, Jump Squad and the Netphone Team. We will accept photo entries WITHOUT captions but it will only be qualified for the MOST CREATIVE PHOTO category.
Winners will be announced at the Facebook Page of Jump Experience Center on or before September 24.
More info at http://www.facebook.com/notes/jump-experience-center/click-post-win-a-netphone/202590449807550
More info about the Smart NetPhone at http://smart.com.ph/netphone/