#SpotMyFoodTriNoma – Instagram Promo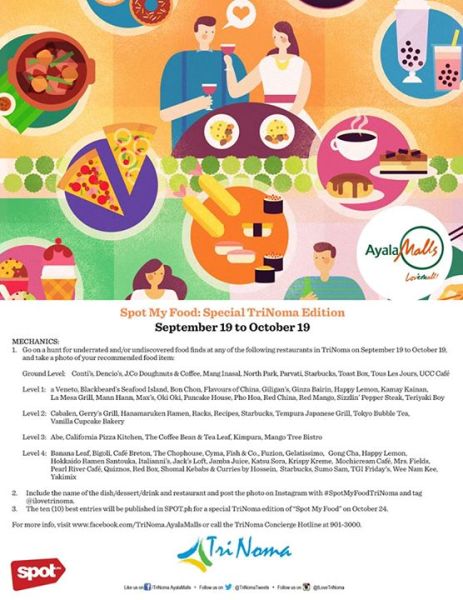 Put those food photography skills to the test and get a chance to be featured in a special TriNoma edition of SPOT.ph's "Spot My Food"!
Go on a hunt for underrated and/or undiscovered food finds at any of the following restaurants in TriNoma on September 19 to October 19, and take a photo of your recommended food item:
Ground Level – Conti's, Dencio's, J.Co Doughnuts & Coffee, Mang Inasal, North Park, Parvati, Starbucks, Toast Box, Tous Les Jours, UCC Café
Level 1 – a Veneto, Blackbeard's Seafood Island, Bon Chon, Flavours of China, Giligan's, Ginza Bairin, Happy Lemon, Kamay Kainan, La Mesa Grill, Mann Hann, Max's, Oki Oki, Pancake House, Pho Hoa, Red China, Red Mango, Sizzlin' Pepper Steak, Teriyaki Boy
Level 2 – Cabalen, Gerry's Grill, Hanamaruken Ramen, Racks, Recipes, Starbucks, Tempura Japanese Grill, Tokyo Bubble Tea, Vanilla Cupcake Bakery
Level 3 – Abe, California Pizza Kitchen, The Coffee Bean & Tea Leaf, Kimpura, Mango Tree Bistro
Level 4 – Banana Leaf, Bigoli, Café Breton, The Chophouse, Cyma, Fish & Co., Fuzion, Gelatissimo, Gong Cha, Happy Lemon, Hokkaido Ramen Santouka, Italianni's, Jack's Loft, Jamba Juice, Katsu Sora, Krispy Kreme, Mochicream Café, Mrs. Fields, Pearl River Café, Quiznos, Red Box, Shomal Kebabs & Curries by Hossein, Starbucks, Sumo Sam, TGI Friday's, Wee Nam Kee, Yakimix
Include the name of the dish/dessert/drink and restaurant and post the photo on Instagram with #SpotMyFoodTriNoma and tag @ilovetrinoma.
The ten (10) best entries will be published in SPOT.ph for a special TriNoma edition of "Spot My Food" on October 24.
More info at https://www.facebook.com/notes/trinoma/spotmyfoodtrinoma-instagram-promo-mechanics/775981535774383