GoPro x Pismo Adventure Contest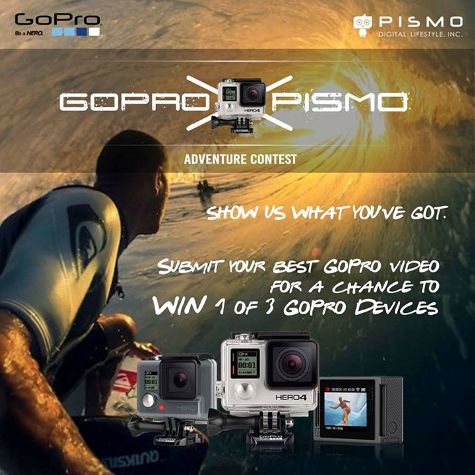 Submit your creative, technical, or just plain rad raw 30-45sec GoPro videos for a chance to WIN one of 3 GoPro devices!
CONTEST MECHANICS:
Contest is open to all GoPro users in the Philippines.
Go to Pismo Digital's Official Facebook fan page with the URL: https://www.facebook.com/PismoDigitalLifestyle and "Like" the page.
Post your video entry on Pismo's Facebook fan page. Caption must include the video title and complete name of the entry owner.
ENTRY REQUIREMENTS:
– Shot on a GoPro camera
– Videos must only be 30-45 seconds
– Submission must be original
– Must not be poor visual and/or audio quality
– Submission must not contain material that are inappropriate,descent, obscene, or pornographic
– Contestants can submit multiple entries
Deadline of entries is until June 20,2015.
The TOP 20 entries will be announced on the Pismo's Facebook Fan page on June 21,2015. They will be invited to attend the Pismo's Anniversary Celebration on June 28,2015 where top 3 winners will be awarded. Venue will be at Pismo Digital Store – Level 6 East Wing Shangri-La Plaza, Mandaluyong City.
PRIZES:
1st Place: GoPro Hero4 Black
2nd Place: GoPro Hero4 Silver
3rd Place: GoPro Hero
More info at https://www.facebook.com/notes/pismo-digital-lifestyle/gopro-x-pismo-adventure-contest/447324805445235