#SmartBroLGGPad Tweet & Win Promo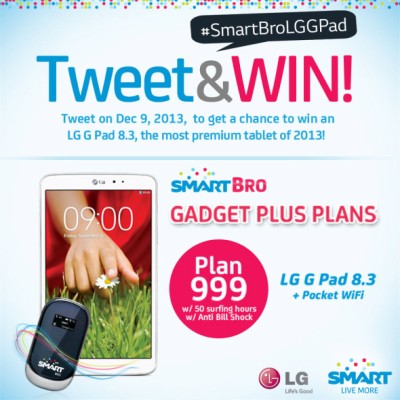 How to join:
First, you should know that you can subscribe to Smart Bro Gadget Plus Plan 999 and get an LG G Pad 8.3 and a Smart Bro Pocket WiFi with 50 surfing hours every month. It also comes with an Anti-Bill Shock feature that caps your bill at P1,599 in the case of excessive use.
Smart and LG Mobile Philippines are giving away a brand new LG G Pad 8.3!
To join the promo, participants must log-in to their Twitter account, FOLLOW @SmartPromos and @LGPhilippines and TWEET an answer to this question:
What excites you the most about the #SmartBroLGGPad?
Entries should:
hashtag #SmartBroLGGPad
hashtag #LGGPadPH
mention @LGPhilippines and @SmartPromos
Sample tweets:
I've peed in my pants with excitement for the #SmartBroLGGPad's Full HD Display! <3 #LGGPadPH @SmartPromos @LGPhilippines
Participants can send their entries within 12:01AM to 11:59PM on Dec 9, 2013. Entries before and after this period will be considered as invalid.
More info at http://www.lgblog.com.ph/uncategorized/tweet-win-smartbrolggpad