#PetronFASTPRIZE Promo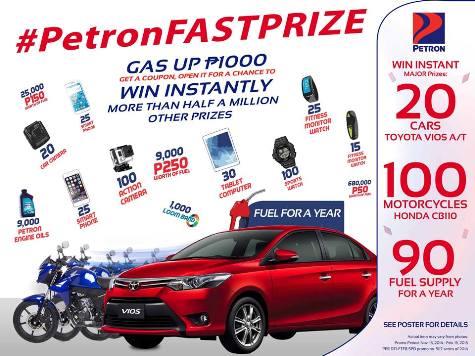 More than half a million prizes to be won! #PetronFASTPRIZE
Mechanics:
Promo period is from November 15, 2014 to February 15, 2015 at all participating Petron service stations nationwide.
Promo is open to all Petron customers. Non-Petron Value Card holders may join the promo.
Every P1,000 worth of single or accumulated fuel purchase of Blaze 100 Euro 4, XCS, Xtra Advance, Super Xtra, Turbo Diesel, or Diesel Max gets you one coupon.
Peel apart your coupon for a chance to win one of the prizes.
Coupons and Coupon Boxes are monitored in consecutive serial numbers.
Receipts should be presented to claim coupons. If receipts have already been used to redeem a coupon, any excess amount in the receipt shall be void and cannot be used for the next redemption of coupons.
All receipts from fuel purchases should be made within the promo period.
Redeem your coupons at the Petron station where you fueled up. Accumulate your single purchases below P1,000 from the same Petron station. Receipts from different Petron stations will not be honored.
Lost or damaged original receipts and coupons will not be replaced or honored.
Minor Prizes can be claimed from any Petron service station.
Minor and Secondary Prizes can be claimed after presenting the winning coupon.
Major Prizes can only be claimed after presenting the winning coupon and the receipt used to get the said coupon.
To claim Major and Secondary Prizes, please present two (2) government-issued identification cards.
Major and Secondary winners must call the Petron Hotline at (02) 802-7777 (Metro-Manila) or 1-800-100-738766 (for other provinces) within 60 days from end of promo period to get his/her prize. We will advise the winner which nearest Petron station he/she can claim his/her prize.
Minor Prize winners must claim their prizes within 60 days from end of promo period.
Only winning coupons with authenticated security features will be honoured.
After calling the Petron Hotline, Petron will record and verify the coupon's details, winner's full name, contact details, and service station where the coupon was given.
Prizes shall be available/awarded within one (1) month after Petron records the winners' details, except for major prizes.
Prizes are non-convertible to cash but are transferable.
Individual Petron Fleet Card transactions by motorists are included in the promo. Coupons for Petron Fleet Card transactions will be issued upon gas up. Bulk orders or direct tank truck deliveries made through fleet card transactions are excluded.
Petron will shoulder the 20% prize taxes above P10,000 registration requirements and shipping of the prize vehicles. Transfer of registration to winner's name shall be shouldered by the winner.
Employees of Petron, its dealers, distributors, agencies, station staff and crew, and their relatives up to the 2nd degree of consanguinity or affinity are not eligible to win any major prize.
More info at https://www.facebook.com/PetronCorporation