Trick or Treat for UNICEF Create-Your-Own-Superhero Contest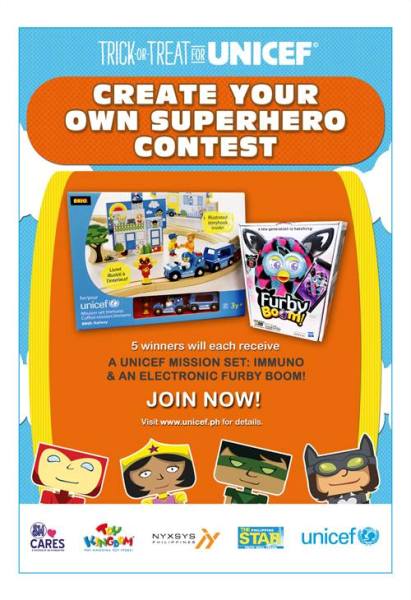 Open to all boys and girls ages 4-12 residing in the Philippines.
To join, participants must click HERE and download the Create-Your-Own-Superhero Activity Sheet and Parent's Consent Form.
In the Activity Sheet, participants will design, draw and create their own superhero on the Trick-or-Treat for Unicef box, and give their superhero a name and power(s). Their superhero must someone who is eager to help and save childrenm and protect their rights. Parents and guardians may give encouragement, but must not have a hands-on role in creating the artwork.
Contest Period: October 4-October 26, 2014
Prizes:
The top five (5) designs will be chosen as winners. Each winner will receive the following prizes:
Electronic Furby Boom
UNICEF Mission Set: Immuno
More info at http://www.unicef.org/philippines/supportunicef_21474.html#.VEKX8mddVd1