Pacquiao vs Marquez Live Free on PLDT WatchPad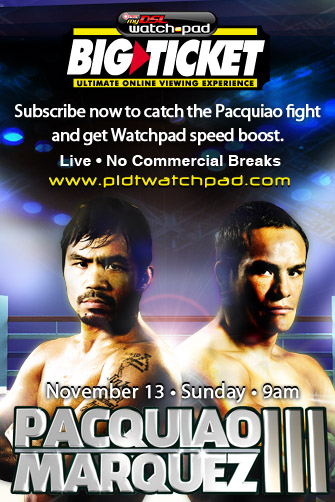 Watch Pacquiao vs Marquez Live for Free for PLDT MyDSL Plan 1995/3000 Subscribers who are registered to WatchPad.
Do you want to watch the live streaming of Manny Pacquiao vs. Juan Manuel Marquez III with a friend for free on November 13, 8:00AM?
PLDT myDSL Watchpad invites you to join the live streaming of Pacquiao vs. Marquez III on November 13, 8AM at Yellow Cab-People Support Makati.
Promo Period: Up to November 11, 2011 only
Prize:
Watch with a friend live streaming of the Pacquiao-Marquez fight at Yellow Cab-People Support, Makati
More info at PLDT MyDSL Pacquiao vs Marquez