7-Eleven TIC-TAC-TOE Summer Papremyo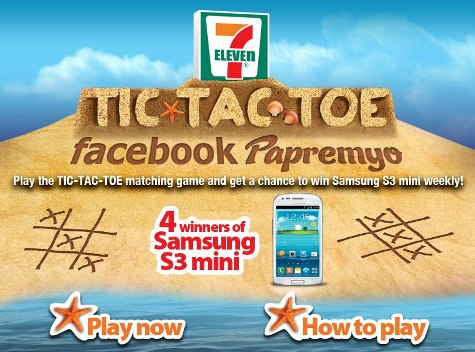 Summer lovin' is happening at 7-Eleven! Just think, you on the beach taking photos of your beach bod (naks!) with your new Samsung S3 mini! 
Eligibility
1. This promo is open to Philippine residents within Luzon and Cebu (where 7-Eleven stores are) with a Facebook account AND who have access to a 7-Eleven store. Those who do not meet these qualifications are automatically disqualified.
2. To join, participants must 'LIKE' the 7-Eleven Philippine Page on Facebook and install the Tic Tac Toe Application.
3. Participants must fill out the Registration form in the Tic-Tac-Toe Application with their Full Name, Email Address, Contact Number and Mailing Address.
4. Employees of the Philippine Seven Corporation, their partners, agencies and their relatives up to the second degree of consanguinity or affinity are disqualified from joining this promotion.
5. Promo runs from April 17 – May 14, 2013.
Prizes
6. Participants who join the 7-Eleven Tic Tac Toe Facebook Papremyo Promo are eligible to win the following:
Prize      Draw Dates
Samsung Galaxy S3 Mini               April 25
Samsung Galaxy S3 Mini               May 2
Samsung Galaxy S3 Mini               May 8
Samsung Galaxy S3 Mini               May 15
How to Play
7. Participants may earn raffle entries when they play Tic-Tac-Toe Summer Papremyo game by finding the winning combinations of matching logos in a straight line on the game board.
8. Finding three (3) winning combinations in one game earns one (1) raffle entry. Finding six (6) winning combinations in one game earns two (2) raffle entries.
9. Participants get three (3) lives when they first sign up to play.
10. Participants may earn an additional life for every visit after the first day.
11. Participants may earn one (1) additional life for every three (3) friends invited to play. To a maximum of five (5) additional lives per day.
More info at https://www.facebook.com/711philippines