Ellips Cologne Click and Chill Promo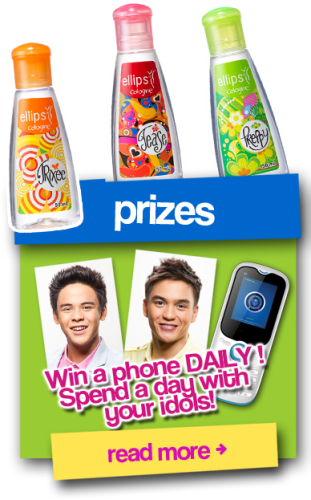 1. Buy 3 Ellips Cologne bottles and take a picture of you with the 3Ellips Cologne bottles.
2. Visit http://www.ellipscologne.com/
3. Click "Join", fill out the form and register online.
This is open to all Filipina girls whose age ranges from 13-19. A mobile phone is given away daily. Plus, they will have a chance to win a day with celebrity cuties, Dominic Roque and Khalil Ramos.
Promo Period: September 1, 2013 to November 30, 2013
Grand Prize:
Hair and Make-Up service and Wardrobe make-over worth Ten Thousand Pesos (P10,000.00) and will spend a  day with their chosen Ellips Cologne Idol.
More info at http://www.ellipscologne.com/