C2 What's Your Pledge Promo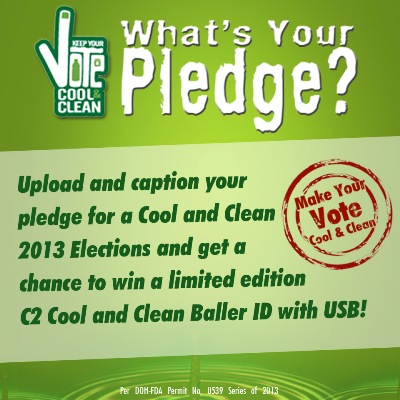 HOW TO JOIN?
Log onto your and like the C2 Cool and Clean fan page https://www.facebook.com/C2CoolandClean. After liking the page, click on the What's Your Pledge? promo tab.
The user must upload a photo depicting his/her pledge to promote aCool and Clean election, along with a one-sentence description of saidphoto.
Participant must then fill out an online entry form with their name,contact number, home address, and e-mail address.
After uploading a photo with description and filling out the entryform, user must click Submit.
Submission of entries will be from March 18 to May 12, 2013
PRIZES
Top 5 Voters' Pledge of the Week ‐ Each of the winners will receive a limited editionC2 Cool and Clean Baller ID with USB.
Pledge of the Week ‐ Winner will receive a limited edition C2 Cool and Clean Baller ID with USB.
More info at https://www.facebook.com/C2CoolandClean/app_584319221580544