Ball Pit Manila Tickets
Ball Pit Manila – The COOLEST PLAYGROUND to hit the city from March 1 to April 30, 2016 at Campos Rueda Bldg., 101 Urban Ave., Makati City.
Tickets available at ticketworld.com.ph/ballpitmanila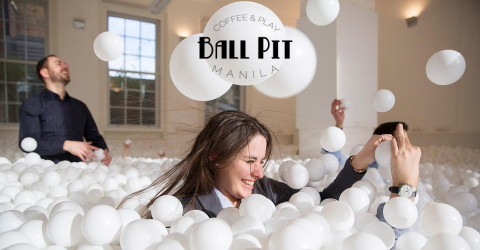 Ticket Prices:
1 hour per session/ticket
Before: P399
Now: P349
with 1 (one) free coffee or iced tea.
Add-ons:
• Unlimited coffee per person (add P100)
• 1 hour extension per person (add P299)
Subject to availability. Available at the venue.
Buy your Tickets now at ticketworld.com.ph/ballpitmanila
Terms & Conditions
• This is an adult ball pit – only 16 years old and above are allowed. ID with birth date is required.
• Socks are required to enter the ball pit and at all times inside Ball Pit Manila. It must be also freshly cleaned. Socks are also available for purchase at the venue.
• LATE GOERS will not be able to stay past the time they have booked. (Please arrive at least 5-10 minutes before scheduled time slot)
• Rescheduling will be allowed if done a week before date of entry, but will be subjected to availability.
• Extension of time will be subjected to the hourly rate and availability.
• Bags, jewellery and other small items are not allowed in the ball pit.
• No refunds, but may be transferable.
• Management will not be held responsible for injuries sustained in the ball pit.
• Management reserves the right to refuse entry.
• Management reserves the right to amend the terms & conditions without prior notice