Casio: Win a trip for two to the Singapore Grand Prix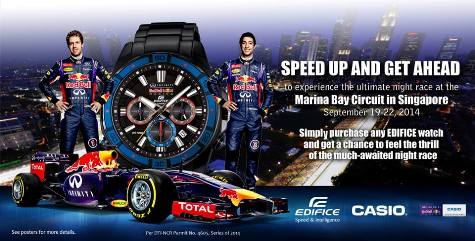 Purchase any CASIO Edifice watch for a chance to win a trip for two to the Singapore Grand Prix!
1. This promotion is open to all Casio Edifice customers who purchase the watch only at authorized Casio dealers.
2. For every purchase of Casio Edifice watch with net purchase amount of P3995 and above, in a single-receipt, entitles the customer to join the promo.
3. Customer can purchase 2 or more Edifice watches in a single-receipt. Cumulative amount of the purchase will be the basis for number of promo codes given.
4. Customer will get the following number of promo code upon purchase:
Net Purchase Amount           Number of F1 Promo Code
P3,995 to P9,995                        1 raffle entry
P10,995 and above                      2 raffle entries
5. Submit your promo codes online at www.casioedificemanila.com to register.
6. Promo codes will immediately be validated upon input. Once validated, participants should fill up the necessary details (First Name, Last Name, Delivery Address, Landline Number, Mobile Number and Outlet of Purchase) to be able to join the promo.
7. Confirmation email will be sent within 48 hours from registration.
8. Deadline of submission of raffle entries is on August 16, 12:00am (Manila Time). Late entries will not be accepted.
9. There will be a total of ten (10) winners where the raffle draw prize will be a Trip for Two (2) to the Singapore Grand Prix. Winning Package is inclusive of the following:
• 4D/3N stay at Grand Park City Hall Hotel Singapore with daily buffet breakfast for 2
• (2) Roundtrip tickets via Singapore Airlines (MNL-SIN and SIN-MNL)
• (2) 3-day PIT GRANDSTAND tickets for Singapore F1 Grand Prix
More info at http://casioedificemanila.com/index.php#section1