Mini Stop Let the Music Pour Raffle Promo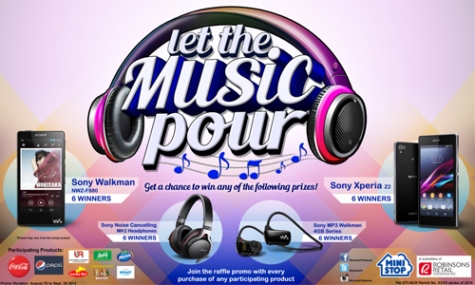 Get a chance to win Sony Xperia, Sony Noise Cancelling MK2 headphones and Sony 32 GB Video MP3/MP4!
DURATION
August 25 to September 28, 2014 (35 days)
PROMO MECHANICS
Every single receipt purchase of any participating product entitles customer to join the raffle promo.
Customer writes the following details at the back of the receipt: complete name, complete address, contact numbers and affix signature.
Drop the raffle entries at the designated drop boxes located in any Ministop stores.
Deadline of submission of entries is on September 28, 2014 (11:59 PM).
Entries will be raffled on October 10, 2014 5:00 p.m. at the Robinsons Distribution Center, Inc. (RDCI 120 F. Legaspi St., Maybunga, Pasig City) in the presence of a DTI representative.
Participants can win only once. If a name is drawn more than once, the prize with the higher cash value will be awarded.
Prizes are transferable but not convertible to cash.
Winners will be notified via registered mail and phone call. Winners must present a valid ID, original and photocopies of identification card with photo and signature (i.e. Driver's License, passport, SSS, TIN, NBI clearance) and registered mail when claiming the prize.
Winners may claim their prize at Robinsons Convenience Stores, Inc. Head Office (110 E. Rodriguez Jr. Avenue, Libis, Quezon City). Provincial winners may claim prize at the nearest Ministop Branch as identified in the registered mail.
More info at http://www.ministop.com.ph/promos#prettyPhoto/0/