Design the Next GO NUTS DONUTS Box Contest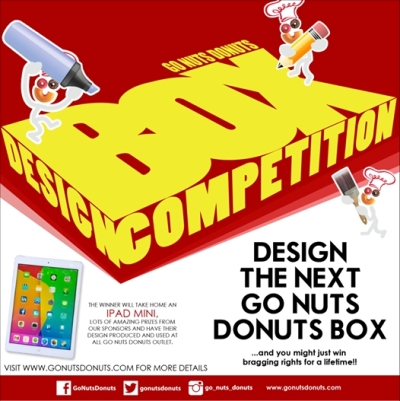 Join Go Nuts Donuts' Design the Next Box contest and you may win exciting prizes… plus bragging rights for a lifetime!
MECHANICS:
A single purchase of a Box of 8 is equivalent to one entry. A person may submit a maximum of 5 entries for the entire duration of the contest.
Participants should work with the existing dimensions of the Go Nuts Donuts Box of 8. Conversely, participants may visit the link for the Box of 8 template:
https://www.facebook.com/gonutsdonuts.fanpage/photos/pb.71655053301.-2207520000.1412041070./10152383539228302/?type=3&theater
Participants may choose to submit their designs through any of the following:
a) Actual box form: Submit to any Go Nuts Donuts store
b) CD: Enclose in an envelope and submit to any Go Nuts Donuts store
c) Email: Send to lysa.ulep@gonutsdonuts.com
All entries should come with contact details and the receipt as proof of purchase. For email submissions, a scanned copy of the receipt should be included.
Attached receipts should be dated within the contest period (September 5 – October 31, 2014).
Box entries should contain the following:
a) Go Nuts Donuts logo as seen in the Go Nuts Donuts website
b) Go Nuts Donuts Slogan "it's all the same 'til you go nuts!
Deadline of submission of entries is on October 31, 2014. The announcement of the winner through the social media sites will be on November 7, 2014.
All entries will become property of Go Nuts Donuts.
Winning design will be commercially produced and deployed at all Go Nuts Donuts outlets for a limited period.
So, what's in store for you? Submit your entries and get a chance to win the following BIG prizes:
> One (1) iPad Mini 16 GB (WiFi)
> One (1) DTC Mobile
> One (1) Reebok Bag
> One (1) year supply of assorted donuts
> Two (2) Calayan Signature Facial GCs
> Two (2) Ace Water Spa GCs
> Two (2) Bioessence Premium Passes
Moe info at http://gonutsdonuts.com/index.php/category/promos/