KFC Breakfast Buffet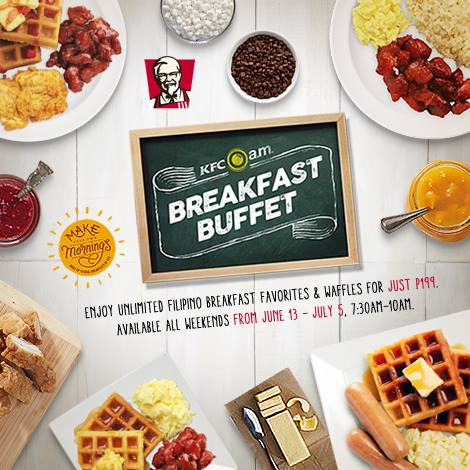 Make your mornings even brighter as KFC AM is bringing back a bigger and better Breakfast Buffet!
Introducing the new KFC Waffle Buffet! Unlimited Waffles, Unlimited Ways! Choose from a wide range of toppings and sauces to put on your hot & crispy waffles. Also enjoy this with unlimited servings of your favorite breakfast selections such as: garlic rice, scrambled egg, chicken tocino, chicken fillet & chicken 'n cheese dog. All for just 199 pesos!
This is available from 7:30AM-10AM for all the weekends of June 13 – July 5 in 12 participating KFC stores only.
More info at https://www.facebook.com/kfcphilippines