Papa John's Weekends, One, Two, FREE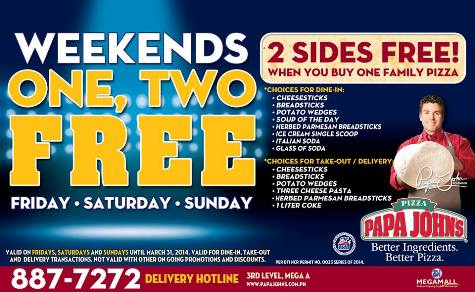 Here at Papa John's, everyone gets their well-deserved break!
Relax and unwind with your favorite BETTER PIZZA, with Papa John's Pizza's "Weekends, One, Two, FREE"! Only on Fridays, Saturdays and Sundays, get TWO SIDES ALL FOR FREE whenever you purchase any family or party size pizza!
Get more out of your weekend, get more with your BETTER PIZZA!
More info at https://www.facebook.com/pages/Papa-Johns-Pizza-Philippines/127898463920397