Sun Broadband Pocket WiFi Sale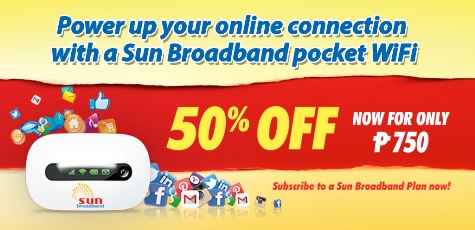 How can it get more affordable than this? Sun Broadband pocket wifi is now 50% off! Subscribe to a Sun Broadband plan now!
Mechanics
Promo is open to anyone who avails any of the following Sun Broadband plans:

Special offer is available for HUAWEI E5220 units only.
Visit any of the Sun Shops nationwide to avail the promo.
Fill out the application form and submit one of any of the following Valid IDs:
Passport (For newly issued passport w/o signature, a secondary ID* is required)
Philippine Driver's License
Locally Issued Major Credit Card with picture
SSS/GSIS/TIN ID
PRC/IBP ID
Laminated Company ID (must be an employee of top 10,000 Companies)
Firearm License ID (card type only)
Membership Card with Picture (must be a member of an exclusive club)
New Unified Multi-Purpose ID
Voters ID (card-type/biometrics)
*Secondary
Company ID (for employees of company not belong to top 10,000)
Credit Card without picture /ATM Card
POEA-OCW Dependents Card/Senior Citizen/Veteran's ID
GSIS/SSS/TIN computer printout
Temporary Driver's License/LTO License Official Receipt
NBI or Police Clearance/Postal ID/Voter's ID/CTC
Government ID/Validated School ID (graduate/college/alumni)
Membership Card (non-exclusive clubs) Health Insurance
Alien Certificate of Registration with photo
Promo runs until September 30, 2014
More info at http://suncellular.com.ph/broadband/promos/sun-broadband-pocket-wifi-sale