myDSL PBA 3-Point King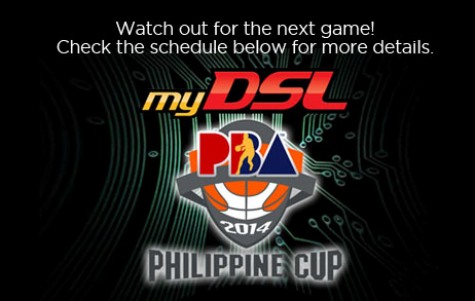 Promo is open to all PLDT subscribers users.
The promo will run for 2 weeks, from December 1, 2013 to December 14, 2013
To join, users must watch the weekend PBA games on TV5 or through the myDSL PBA Portal at http://pldthome.com/mydslpba.
During the live game, there will be an on-air announcement from the hosts during the 1st quarter of each game to signify the start of the 3-Point King promo. They will ask viewers to guess who the player with the most number of 3-point shots made by the end of the game will be.
Upon announcement, users go to http://pldthome.com/mydslpba and click on the 3-Point King Promo box.
User then proceeds to fill out the required registration fields on the page:
Name
Complete Mailing Address
Email Address
Contact Number
After registration, user enters his/her answer in the ANSWER field provided.
The following prizes will be given away to the winners per promo run:
1 myDSL gift pack EACH (inclusive of the ff items: notebook, lanyard, pen, USB thumb drive)
All winners will be posted on the myDSL PBA Page and will also receive the notification via email and/or a call to their registered mobile phone.