Win a Speedo Fitness Kit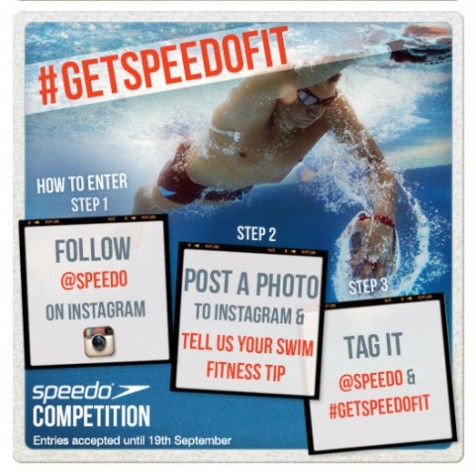 Fitness training in the pool is one of the most effective ways to get fit and tone up. We're asking you to share your swim fitness tips on Instagram – You could win a Speedo Fitness Kit!
How to enter
Step 1. Follow @speedo on Instagram
Step 2. Post a Photo to your Instagram feed & tell us your tip for keeping fit at the pool in the photo comments
Step3. Tag the photo with @speedo and #GetSpeedoFit
The Prize
Each winner will receive a Speedo Fitness Kit including *:
· 1 x pair of Speedo training fins
· 1 item of Speedo swimwear from the Monogram range (Aquashorts for male/one-piece swimsuit for female)
· 1 x Speedo Aquapulse Max goggles (for male) or 1 x Speedo Futura Biofuse goggles (for female)
· 1 x Speedo swim kit bag
* Speedo Fitness Kit (The Prize) contents are subject to availability. In the instance a product is not available, Speedo has the right to choose a suitable replacement of Speedo's choice.
A panel of Speedo judges will be selecting a shortlist of our favourite entries and re-posting them to the Speedo Instagram feed. One winner will be announced each Friday until the competition ends.
Entries will be accepted until 19th September 2013. The final winner will be announced on the 20th September 2013.
More info at https://www.facebook.com/SpeedoPhilippines