Tag Archives:
2013 contest

Sport, music, street art – anything goes. Pictures, photos, films – simply upload and win! Our jury chooses a winner every week so you've got tons of chances to win. It's not even the technical brilliance or the medium of your entry that counts; it's all about your creativity and originality – and, of course, what you do with the colors orange and white. We can't wait to see your ideas!
Contest Period: January 2013-December 31, 2014
Prize:  Brand-new iPad mini every month and an exclusive STABILO sport hocker weekly.
More info at https://www.facebook.com/STABILO?ref=stream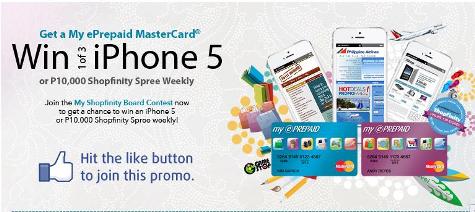 Get a My ePrepaid Master Card and join the My Shopfinity Board Contest to get a chance to win an iPhone 5 or P10,000 Shopfinity Spree weekly!
Make your own My Shopfinity Board.
Like the My ePrepaid fan page
Go to the My Shopfinity Board App
Register to the PROMO
Upload photos  showing how you will spend P10K
Vote  & Share for your favorite entries.
10% No. of votes
30% Creativity
40% Emobodiment of the My ePrepaid MasterCard brand
20% Relevance to the theme
Most Creative Board Wins!
Contest Period: Otober 31, 2012 – February 1, 2013
More info at https://www.facebook.com/eprepaid