Tag Archives:
2013 photography contests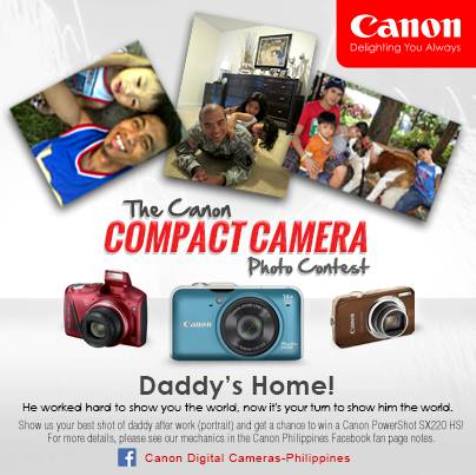 Canon is giving away a PowerShot SX220 HS this Father's Day! Just send your best shot of daddy after work and send it over to Canon Digital Cameras – Philippines FB Page  !
1. Monthly Photo Contest to be held in the Facebook Fanpage.
2. The promotion is open to all Powershot and IXUS users.
3. To qualify, participants must first like the Canon Camera fan page.
4. All entries will be first sent to CameraPromo@canon.com.ph for initial screening of entry together with their personal details. along with their:
Complete name
Contact number
Email address
Camera model (e.g. PowerShot A2500)
Serial number
Scanned ID
7. Waiver form (confirming that the submitted photo is his/her original work).
Contestants must include a title and a short description of up to 50 words with their entries. Confirmation emails will be sent to all participants within five(5) working days to notify them of the receipt and validity of their entries. Filesize of the entry image should not exceed 5MB. Please follow the following format for the file name and e-mail subject:
File name: (Your LastName)_(First Name)
E-mail subject: (MonthlyPhoto Contest Title)
Entriesmust follow the Monthly theme (for June it will be "Daddy's Home")
Submissionof entries will start from June 11, 2013 until June 25, 2013. Contest winners will be announced on July 1,2013.
Manipulated photos will NOT be accepted. Only basic enhancementslike cropping, resizing, and minor adjustments in brightness and contrast willbe allowed. Entries should be the original work of the contestant
More info at https://www.facebook.com/notes/canon-digital-cameras-philippines/fathers-day-photo-contest/10151499823760847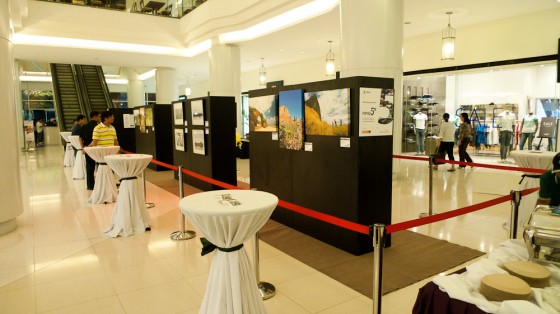 Here's your chance to be part of the annual PiPho anniversary exhibit!
Pinoy Photography Organization (Club) will be holding the 2013 PiPho Online Photo Contest from February to June 2013. The Contest will have a category for PiPho Forum members, and another for PiPho Facebook members.
There will be a theme for each month. The themes are as follows:
February 2013 – Philippine travel and tourist destinations
March 2013 – Still life and food
April 2013 – Nature, Wildlife and Animals
May 2013 – Portraiture, fashion and glam
June 2013 – Street photography, documentary, photojournalism
Every month, the Club will pick the top 3 photos from each category.  The winners will be invited to the monthly Club meeting for the awarding of certificates, and the photos will be featured on the Club's website, the PiPho Forum, and PiPho Facebook page.
The photo of the first place winners for each month shall be printed and displayed during the pre-anniversary PiPho Photo Exhibit together with the photos of Club members.
More info athttp://pinoyphotography.org