Tag Archives:
7-eleven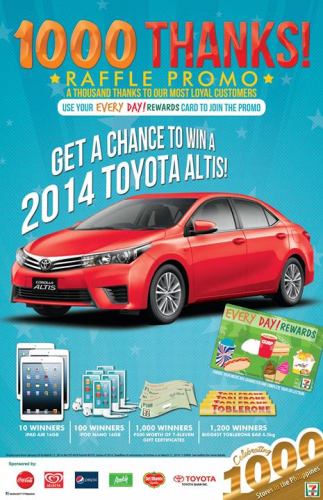 Join 7-Eleven's 1000 Thanks Raffle Promo and get a chance to win an iPod Nano, iPad Air or a 2014 Toyota Altis by using your Every Day Rewards Card!
Eligibility
1. This raffle promo is open to all residents of the Philippines above 13 years of age except employees and family members of Philippine Seven Corporation, Franchisees, Suppliers, and Agencies including their relatives up to the second degree of consanguinity or affinity.
2. This promotion is open to all Every Day! Reward Cardholders issued by 7-Eleven Philippines who have activated their cards either thru text or thru website.
To Activate:
VIA WEB: go to www.rewards.7-eleven.com.ph > ACTIVATE > click on CARD ACTIVATION PAGE >
fill out the following details:First Name, Last Name, Address, Card Number, Mobile Number.
VIA TEXT:
Send
CARD NUMBER/LAST NAME/FIRSTNAME
to 09178711150
Promo Period: January 29 – March11, 2014
Mechanics:
To join, Cardholders must satisfy any of the following requirements:
a .Eligible Cardholders must redeem/purchase a Music Box Collectible to earn two (2) e-raffle Entries.
b. Purchase of any two (2) of the Booster Products and present their Every Day! Rewards Card before payment to earn one (1) e-raffle entry.
BOOSTER PRODUCTS:
Coke Regular 2L
Mountain Dew 2L
Selecta Magnum Bar Almond 90g
Del Monte Fit 'n Right Pineapple 1L
c. Every purchase of any Toblerone 100g gets one (1) e-raffle entry.
Prizes:
Qualified cardholders have the chance to win any of the following prizes:
TOYOTA ALTIS 2014 MODEL (1winner) – Grand Prize
iPad Air 16gb (10 winners)
iPad Nano 16gb (100 winners)
P500 Worth of 7-Eleven Gift check (1,000 winners)
Toblerone 4.5kg (1 winner per store or 1,200 winners)
More info at https://www.facebook.com/711philippines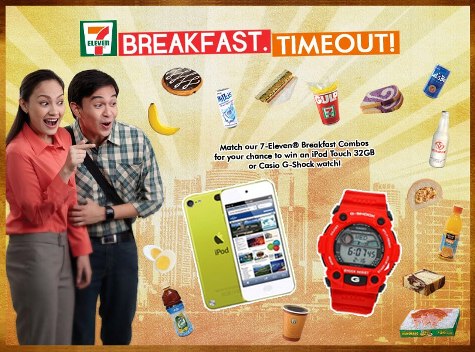 Take some time for a 7-Eleven Breakfast Timeout! Play and match  7-Eleven Breakfast combos for your chance to win an iPod Touch or Casio G-Shock watch!
Promo Period: March 21-April 17, 2013
How?
Participants must LIKE 7-Eleven Page on FB and install the Breakfast Time Out Application.
Participants may earn raffle entries when they play the Breakfast Timeout game by earning a score of at least 100. An additional points can be earned by scoring at least 500 points.
Prizes and Draw Dates:
Casio G-Shock –April 19
iPod Touch 5th Gen. 32GB –April 19
More info at https://www.facebook.com/711philippines