Tag Archives:
alicica keys world on fire concert tour manila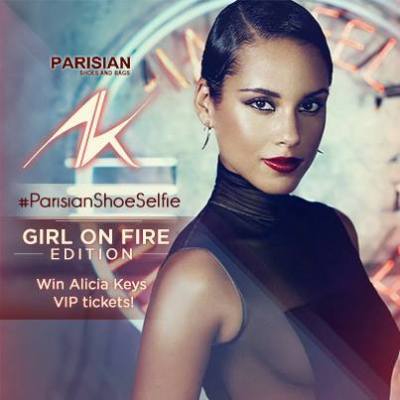 Alicia Keys Set The World On Fire Tour
MECHANICS
Open to all Fans of Parisian Shoes and Bags
Female, 16 yrs old and above.
1.       Take a Shoe Selfie Photo with your Parisian Shoes
2.       Upload your Shoe Selfie photo on your Facebook, Twitter or Instagram account.
3.       Make sure you're a follower or a fan of the Parisian Shoes and Bags pages.
a.       Follow @SMParisian on Instagram and Twitter
b.      Like Parisian Shoes And Bags on Facebook
4.       Use the hashtag #ParisianShoeSelfie when uploading your entry.
5.       Make sure that your account is public so that we will see your entry.
6.       A winner may only win once.
7.       There will be a total of three winners who will win three VIP tickets each to the Alicia Keys Set The World On                Fire Tour.
8.       Parisian Shoes and Bags will not shoulder transportation expenses to and from the concert.
9.       Prize is not convertible to cash
Submission of Entry: October 28-November 18, 2013
Determination and Announcement of Winners: November 19, 2013
Concert: November 25, 2013 (More info about Alicia Keys Live in Manila)
More info at https://www.facebook.com/ParisianShoesAndBags