Tag Archives:
april 2014 contests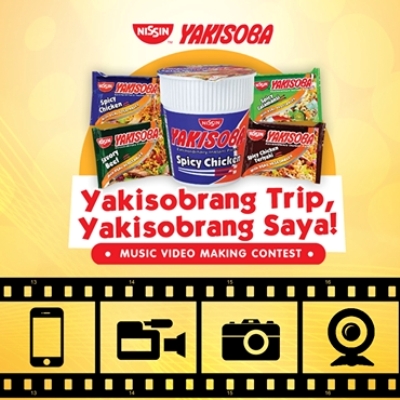 Get a chance to win as much as Php 25,000.00 + Nissin Yakisoba products when you join the Nissin Yakisoba "Yakisobrang Trip, Yakisobrang Saya" Music Video Making Contest!
HOW TO JOIN?
Create a music video for the Nissin Yakisoba song, "Yakisobrang Trip, Yakisobrang Saya (Original)". The music video should showcase your own interpretation of the "Yakisobrang trip, Yakisobrang saya" concept. The more creative and unique your music video is the better chances of winning.
Log on to https://www.facebook.com/nissinyakisoba and follow the steps on how to join the contest.
Click on the Nissin Yakisoba Music Video Making Contest tab.
Upon clicking the "Download Song" button, the "Yakisobrang Trip, Yakisobrang Saya (Original)"" song will be downloaded.
Create your music video and upload it on YouTube. Once the video is uploaded, copy the video's URL, return to the Nissin Yakisoba Video Making Contest promo tab, and paste the URL on the online entry form.
Complete the online entry form with the following details: music video title, music video link, complete name, name of barkada/group, email address, mailing address and mobile number.
Once you have completed the form, please make sure to check the box which says "By clicking on this check box I confirm that I have read the full mechanics of this promo, and I understand that non-compliance with the aforementioned mechanics will result in the disqualification of my entry from this promo".
Click on the "Submit entry" button. A notification will appear reminding you to check your e-mail for your confirmation message.
Wait for the notification that reads "You have successfully submitted your entry form. Please check the email you have registered on Facebook for a notification email. Thank you and good luck!"
If you don't receive a confirmation email, please check your spam folder. Please contact us through our Facebook fan page if you haven't received a notification email within a few hours upon submission of your entry. Please do not delete the email until the end of the promo period.
In the event of a conflict, you will be asked to present the e-mail notification as proof of your submission.
Submission of entries will be from April 1 – April 30, 2014 only.
More info at https://www.facebook.com/nissinyakisoba