Tag Archives:
araneta center halloween promo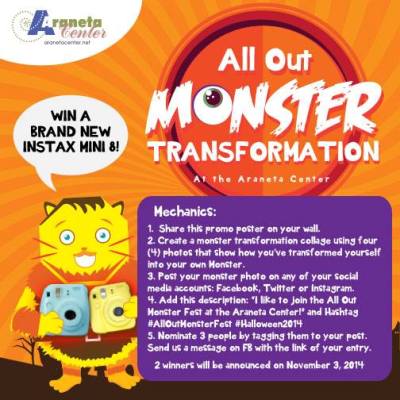 Because you want it! Here's how you can win a brand new INSTAX MINI! #AllOutMonsterFest #Halloween2014
It's Halloween! Time you unleash the "monsterrrrrific" in you!
Share this promo poster on your wall.
https://www.facebook.com/AranetaCenter/photos/a.120358629031.100022.118850004031/10152522577769032/?type=1&theater
Create a monster transformation collage using four (4) photos that show how you've transformed yourself into your own Monster.
Post your monster photo on any of your social media accounts: Facebook, Twitter or Instagram.
Add this description: "I like to join the All Out Monster Fest at the Araneta Center!" and Hashtag #AllOutMonsterFest #Halloween2014
Nominate 3 people by tagging them to your post. Send The Araneta Center a message on FB with the link of your entry.
2 Winners will be announced on November 3, 2014
More info at https://www.facebook.com/AranetaCenter