Tag Archives:
araneta center hot wheels cool dads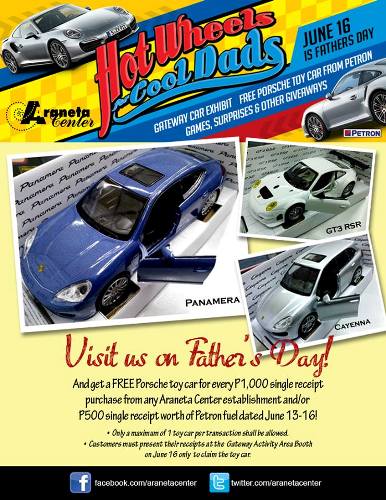 He was your Superman, Iron Man, and Captain America all rolled into one. He was there to guide you as you learned how to ride a bike and stayed up late to help you with your math homework. What better way to show your love for dad by treating him out on this special day?
Show your appreciation for dad on Father's Day, June 16 at the Araneta Center, and indulge in his love for cars at the Hot Wheels for Cool Dads car exhibit at Gateway Mall. This special exhibit will feature a Porsche boxster, a mid-engined two-seater roadster that will surely delight the car enthusiast in your dad.
You can also treat dad to lunch on his special day at selected Araneta Center establishments and get freebies and discounts. You can also give dad a limited edition Porsche toy car as a cool souvenir. To avail of the free Porsche toy car, simply present a P1,000 single receipt purchase from any Araneta Center establishment and/or a P500 single receipt Petron fuel transaction.
This special Father's Day treat is brought to you by the Araneta Center.
More info at http://www.aranetacenter.net/2008/2013_fathersday.php