Tag Archives:
araneta coliseum win a uaap cheerdance competition passes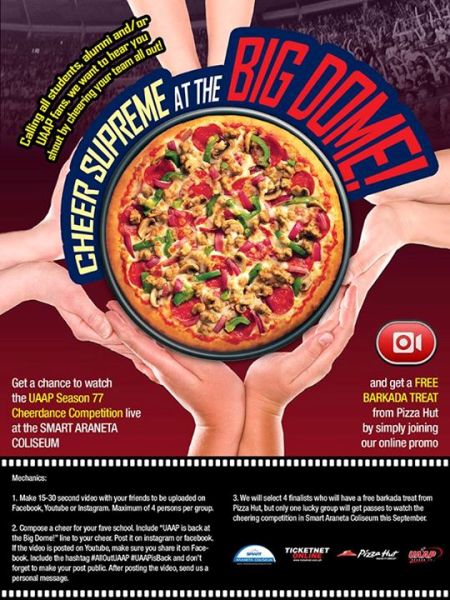 Are you ready for the UAAP Cheerdance competition?
Get a chance to watch the UAAP Season 77 Cheerdance Competition live at the SMART ARANETA COLISEUM and get a free BARKADA TREAT from Pizza Hut Philippines by simply joining  Araneta Coliseum's promo.
Mechanics:
1. Share this photo to your wall and ask your friends to make a 15-30second video to be uploaded on Facebook, youtube or instagram. Maximum of 4 persons per group.
2. Compose a cheer for your rooting school. Include "UAAP is back at the Big Dome!" line to your composition. Post it on instagram or Facebook. If the video is coming from youtube, make sure you share it on Facebook. Make sure you hashtag #AllOutUAAP #UAAPisBack Don't forget to make your post public. After posting the video, send us a personal message.
3. Araneta Coliseum will select 4 finalists who will have a free barkada treat from Pizza Hut and from the 4 finalists; they will choose 1 group who will get passes to watch the cheering competition on September 14, 2014.
Promo Duration: August 12 – September 10, 2014
More info at https://www.facebook.com/thearanetacoliseum