Tag Archives:
art competition 2013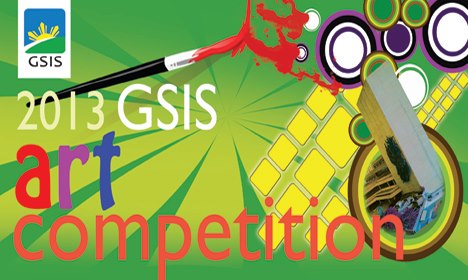 The Government Service Insurance System (GSIS) is inviting Filipino artists to join the 2013 GSIS Art Competition. Now on its 9th year, GSIS is encouraging the public to be with us in giving tribute to our brilliant artists. We are inviting all artists to join the competition and explore their best in conceptualizing their entries to produce new and liberated works.
Official entry forms are available in all GSIS offices (Headquarters, Regional Offices and Satellite Offices), AAP Kanlungan Ng Sining, and galleries starting April 22, 2013.
The GSIS shall be strict in the implementation of the guidelines set. It is advised that all interested participants be mindful of the mechanics, rules and regulations as entries could be disqualified for technical reasons.
1) There are three (3) categories for this year's competition:
I. Representational [any style, realistic, stylized (distorted figure), representational cubism, etc] in Horizontal/Landscape Orientation.
II. Nonrepresentational (abstract) i.e. purely non-representational, no-recognizable figures and objects in  Vertical/Portrait Orientation.
III.  Sculpture
2) The competition is open to all Filipino artists age 18 years old (by June 1, 2013) and above. Participants can submit one entry per category. There is no participation fee.
3) Open Theme
4) For the REPRESENTATIONAL CATEGORY, the required size is 3 feet x 4 feet horizontal/landscape orientation only ( excluding frame). Its weight should not exceed 10 kilos (including frame).
For the NONREPRESENTATIONAL CATEGORY, the required size is 4 feet x 3 feet vertical/portrait orientation only (excluding frame). Its weight should not exceed 10 kilos (including frame).
4.1 All entries must be ready for hanging (museum wrap or box type is allowed) upon submission.
4.2 The medium acceptable is oil on canvas, acrylic on canvas and watercolor only. Entry using collage, decoupage, assemblage or use of non-pigment based materials like paper, board, plastic metal, cloth etc. is allowed. To qualify, entries must have the appropriate support, and/or equivalent devices should be provided to ensure the proper hanging of the artwork(ready for hanging).
5) For sculpture, LENGTH – the minimum of 18 inches and maximum of 36 inches; DEPTH – minimum of 12 inches and maximum of 24 inches; HEIGHT – minimum of 24 inches and maximum of 48 inches; WEIGHT – should be between 10 kilos and 50 kilos
5.1 Entries must be done in the generally accepted medium for sculpture such as Metal (steel, brass, copper, aluminum, and bronze); Hardwood (narra, mahogany, yakal, et al); Stone (marble, granite, limestone, et al); Terracotta; Resin and Solid Glass.
6) The entry must be dated not earlier than 2013 and must be the original work of the participating artist. In addition, it must not have been exhibited before, nor revised, nor awarded a prize in another contest.
7) The entry painting or sculpture MUST BE SIGNED by the artist but the signature should be covered with masking tape prior to submission to conceal the artist's identity. It must also be properly labeled at the back, indicating the following: Artist (Name, Address, and Contact Numbers), Title of the artwork, Medium, Size, Year and Price, if the artwork is for sale.
SUBMISSION OF REQUIREMENTS
8) All participants must be responsible for their entries. The GSIS shall not undertake any pick-up or transportation of any artwork to or from any point of origin. WET PAINTINGS AND "WET" SCULPTURES WILL NOT BE ACCEPTED.
9) Entries must be submitted at the GSIS Museum located at the GSIS Main Office, Financial Center, Reclamation Area, Pasay City (CCP Complex – Diosdado Macapagal Ave) on  June 1, 2013 (SATURDAY) FROM 8:00 AM UNTIL 5:00 PM only.
10) Entries submitted before or after the stated date and time will not be accepted. Mail forwarders coming from the provinces should be advised by the participants themselves that the entry will only be accepted on the said submission date. It is encouraged for participants who opt to submit their entries by mail forwarders (esp. those from far provinces) to group together for inexpensive shipping of entries to Pasay City.
Prizes
1st Prize – P 300,000.00
2nd Prize – 200,000.00
3rd Prize – 100,000.00
For complete mechanics, visit http://www.gsis.gov.ph/