Tag Archives:
astroplus NBA 2K14 promo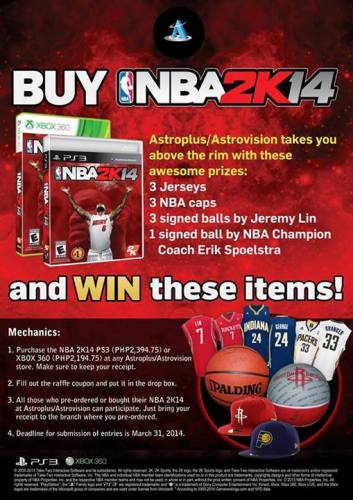 Astroplus/Astrovision takes you above the rim with these awesome prizes:
* 3 Jerseys
* 3 NBA caps
* 3 signed balls by Jeremy Lin
* 1 signed ball by NBA Champion Coach Erik Spoelstra
Mechanics:
1. Purchase the NBA 2K14 PS3 (PHP2,394.75) or XBOX (PHP2,194.75) at any Astroplus or Astrovision store. Make sure to keep your receipt.
2. Fill out the raffle coupon and put it in the drop box.
3. All those who pre-ordered or bought their NBA 2K14 at Astroplus/Astrovision can participate. Just bring your receipt to the branch where you pre-ordered.
4. Deadline for submission of entries is March 31, 2014.
More info at https://www.facebook.com/Astroplus1